February is long over and I managed to read a third of my tbr…so points for progress? Anyway last month was an odd one. Despite being so busy I managed to read 10 books and DNFing 2 books. I got the majority of my reading done during the last two weeks, and I actually ended up reading from a bunch of different genres, which I think really helped me in the long run. I also found some really bad ones and new die hard favourites, so let's get into it.
---
First let's start with the books I DNF. The first book I DNF was Heroine Complex by Sarah Kuhn. I wanted to give this a second chance but I just could not do it. I loved I Love You So Mochi by Sarah Kuhn, it was perfection, so I expected to enjoy this one as well but that was not the case. Despite it being an adult book, the first chapter felt less mature then what was given in I Love You So Mochi, hence why I DNF this one originally. I just thought all the drama about a superhero having a zit was stupid. But this time around I was feeling optimistic only to realize I could not finish it for two new reasons. Firstly, and perhaps most stupidly, I learned that I really hate mass market paperbacks. The font is small, the pages are paper-thin so they tear (happened twice to my annoyance) and they are terrible to hold. I feel like if I read Heroine Complex via ebook I would have made more progress. Then again I probably wouldn't have finish it either way because all the characters were 2D and once again I felt like I was reading something immature. I get that the book is supposed to be a fun light hearted read but I found myself rolling my eyes alot and wishing something exciting would just happen. Not for me.
The second book I DNF was Labyrinth Lost by Zoraida Cordova. I loved the plot of this one. The world and magic system were fascinating but I originally ended up DNFing it because of Rishi (one of Alex's love interests) who was annoying and every interaction she had with Alex was cringy. She was a useless character and seriously did not even need to be in the book as she did nothing but hold Alex back. I will never get over Alex ending up with Rishi just because they are both girls despite lack of chemistry. This time around I managed an entire chapter before stopping. I just found myself not caring especially snice I knew the outcome. That's how I knew I might as well DNF this one for good.
Now moving on to books I actually finished. The first book I finished was actually a play, and it was A Tempest by Aime Cesaire which I gave 1 Star and that's being generous (I bumped it up half a star for addressing important issues, which sadly is all it had going for it). *Long Sigh*, okay let's talk about this play. Now this is a short play redoing The Tempest by William Shakespeare with strong focal element on colonialism. It addresses how Settlers treated Natives badly when they conquered land in the West. We need more books/plays that addresses these topics because it is important to recognize our ancestor's mistakes. I get what Amare wanted to do, I really do, HOWEVER this book came off too strong & too harsh. The dialogue for starters did not flow naturally; Caliban would shout out historical facts at Prospero and it felt like switching from a normal conversation to a crude history textbook. It was jarring. Also only Caliban got he got the important lines and there were scenes where multiple people were present but said nothing just so two characters could talk. It was like they were quietly observing arguments. Nearly all the characters felt nothing like those from The Tempest and most annoying Cesaire took a gender fluid magical air spirit and made him half black. I get it, representation but why change him? Suddenly his role makes no sense because he is supposed to be invisible and leading people where they need to be. It does not matter what colour your skin is, if you are human then you can't summon a tempest. I suppose the only character that was better than their original was Miranda because she finally was given a personality. Every white character was racist, even Gonzalo (who was supposed to the nice one). Like I get it, this was set during the renaissance, but not everyone is racist or romanticizes other races/cultures. While the plot is mostly the same, then ending is not and it makes no sense. Are you telling me that Prospero ends up staying on the Island. Alone. With No Magic. This man who once caused a tempest is suddenly at the mercy of Mother Nature? What?! Cesaire's story could have benefitted from subtly. It could have been clever, but instead he took The Tempest and butchered it. Points for writing a story about colonialism but don't think just because you write about important topics, that you've written it well or deserve praise. I hate that I cannot fully express why I hate this play. I also hate that if I don't add "It's not because of the race issues", then suddenly someone is going to assume I'm racist when that is not the case. It's a shitty play and if you want a better understanding of why it sucked I direct you to other reviewers on Goodreads, especially what N.T.Embe said (agree with everything except the point on Miranda), because they sum up the problems better then I ever could.
Then I picked up a non-fiction book for my history class. I'm only going to briefly touch on this one, but The Sixties by Dimitry Anastakis is a collection of essays dedicated to events/topics during the 60's in North America. There were some really good ones and very confusing ones. I will not be rating this one, mainly because they were based on facts and I just don't know how to rate each essay on a 5 star spectrum. The collection was a bit of a mess, with some A+ essays thrown in. I would not recommend to anyone who has zero prior knowledge about the 60's, however if you are interested in some non-fictional essays go for it. I would recommend Canadian Women & The International Arena in Canada, A Crash Course in Manhood, The Age of Aquarius, Canada's Foul Weather-Friend, & California Casual. I just feel these 5 essays were the strongest and worth the read.
The third book I read was The Lady Rogue by Jenn Bennett, which I gave 3.5 Stars. That's right after a month and a half I finally finished it. Now don't get me wrong, I love Jenn Bennett books. I really do and this one sounded right up my ally; romance, puzzles, Romania. I strongly believed I would have enjoyed this one more if I was in the mood to read it, instead of picking it up during two very busy months. I'm definitely going to reread this at a future date just to see if it was the book or me. The Lady Rogue is about a rekindling romance set in the backdrop of 1930's Romania with a treasure hunting subplot. Not to be confused by a treasure hunting book with a subplot of romance, else this one may not be for you. Basically it follows Theo and Huck as they outrun a murderous cult and search for Theo's missing father who just so happens to be looking for Vlad The Impaler's cursed ring. So there is a lot going on. Let's talk about the negatives first: there is a lot of miscommunication between our lovebirds, a really cringy drunk scene and not nearly enough puzzles as I would have liked from a treasure hunting book. That out of the way, let's briefly talk about things I loved: The culture and richness in detail given to Romania, the Zissu brothers, Huck being a Beta male to Theo's Alpha female (a concept not found enough in YA), and every journal entry. I honestly had no clue what to expect as I didn't see any of the twists coming. So yes, I gave this an extra half a star for that. I think my problem was that I wanted this book to be something it was not and I was disappointed that it didn't match my expectations. It is still a good book but not my favourite of Bennett book. Still I will pick up more that she publishes.
Now let's get onto the good stuff. I can offically say Harleen by Stjepan Šejić, is by far one of my favourite Harley Quinn comic origin stories. All the characters and villains seem grounded yet crazy enough to feel real. The depiction of Harleen's decent into madness was this gradual but captivating thing. We see how her fascination with the Clown Prince of Gotham grew from fear to love, and how her mind was easy to twist due to her loneliness, night terrors and alcohol addiction.
I also love how as the story progressed Harley's trademark colours would appear more and more (red & black umbrella and shirts). The plot focuses on Harleen, who after being shunned by her co-workers due to sleeping with her professor, finds opportunity to prove her theories and worth by becoming a doctor at Akarham Asylum. Meanwhile there was this small side story of the makings of Two-Face. I found it clever of Šejić to make Harleen's decent mirror Harvey Dents. It was also fun to see other Gotham villains cameos such as Ivy and Killer Croc. The art style was detailed and stunning, so 5 out of 5 Stars
Next I read Batman: Harley Quinn by Paul Dini. What upsets me the most was that the cover does not match the art style at all, which is one of my biggest comic pet-peeves; But as it came out in 1999, I was willing to let it slide in favour of an amazing plot. Unfortunately there was no amazing plot. This wasn't so much as a Harley Quinn origin story but instead has Harley Quinn reflecting on her past with the Joker and failing to get revenge with Batman after the Joker kicks her to the curve. Not to say that it's bad, but amongst all the Harley Quinn comics I've read this one is forgettable. Like I remember Ivy giving Harley a kiss? and she and the Batman climb a tower? Ending with an explosion and Harley & Joker escaping on a boat? I'm using question marks because I'm not enturely sure if any of what I just said actually happened in the comic or I am just thinking of an episode from one of the many Batman TV Shows. I read this a week & 3 days ago, I feel like I should be able to remember more details. So this was 1.5 out of 5 Stars.
Continuing on with the theme of Harley Quinn Comics, I picked up Batman: The Dark Prince Charming by Enrico Marini, which I gave 4.5 Stars. Not so much a Harley Quinn comic as Harley Quinn makes an appearance as the Joker goes toe-to-toe with Bruce Wayne. This was fantastic. It was action packed with real stakes.
It's always fun to see the different costume designs and art styles of these characters, and I really enjoyed Enrico's take on everything. The plot centered around the Joker kidnapping a little girl (who is apparently Bruce Wayne's lost long daughter) in order to blackmail Bruce Wayne into buying an expensive diamond necklace, after failing to get Harley a decent birthday present. That's it, that is the entire plot and its crazy enough to work. I was not surprised by the major plot twist but I still had fun. This Joker was crazy as usual yet  was questionably decent towards Alena. He also shares a bit of his past but seeing as he's the Joker who knows if he is telling the truth.
Then I read Tomboy Survival Guide by Ivan E. Coyote which I flew through. It felt more like someone sharing a story then reading a book about someone's past thanks to its informal tone. This is a memoir of sorts where Coyote talks about their challenges they faced as a women in the workplace, their sexual encounters, family life and the awfulness of trying to use a public bathroom. There were times where I cried because it was just so painfully real what they experienced, and then there were times I smiled because not all Coyote wrote was depressing. Their sense of humor mashed well with mine. I was concerned reading this at first because I typically find autobiographies of LGBTQ+ community so strong and harsh to anyone not a part of the LGBTQ+ that it irks me (is it too much to ask everyone to get along because hate breeds more hate?), but that was not the case. Yes, Coyote forced their frustrations but it didn't feel like it was insulting me and actually made me want to do something to help. I ha rating autobiographies because it seems wrong to pass judgement on someone's life experiences so instead I am just going to say I would recommend this to anyone wanting a LGBTQ+ hard hitting autobiography or even if you want anything along those lines. I feel this book offers some great insight and brings up important discussions but in a subtle way, not a FUCKYOUCLEARLYYOU'REATERRIBLEPERSON!!! way. I cannot stress the importance of being firm but not an asshole when talking about important issues. Trust me no one is going to respond well to that attitude and suddenly the point you are making is lost. Getting back on track I really do hope more people consider reading this because it touches on alot of topics from grief to fear and even the importance of family.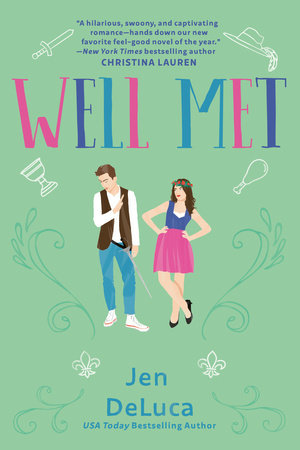 Then after reading something hard hitting I picked up Well Met by Jen Deluca and I gave it 5 Stars. I was really in the mood for something cute and lighthearted, though it did have its moments where it struck a cord with me and I was crying. I love the small town feel it just gave me Stars Hollow from Gilmore Girls vibes and I love how everyone partakes in the Renessiance Faire. I was hooked from the very first line "I didn't chose the wench life. The wench life chose me." If that is not a great opener, I don't know what is. Alot of confusion and drama came from Simon and Emily hating each other outside the fair but their characters at the fair had a bunch of cutsy moments. This is how miscommunication drama is done right, Authors take note. I also really appreciated the family aspect of Well Met. It was heartwarming seeing Emily and April learning how to be sisters and Simon moving beyond his dead brother's legacy. It was also great that we got to see beyond the scenes of making the Rene Faire come to life. A lot of prep goes into those things and I was suprised but really appreciated that. Not going to lie now I am tempted to visit a Rene Faire or at least read more books set at one. I cannot wait for Well Played & Well Matched to come out because I just had so much fun reading this one.
Afterwards I picked up Corrupt by Penelope Douglas, which I loosely gave 3 Stars. Now I read the first 6 chapters and the last 9-ish chapters near the ending, all while skimming the middle. It is by no means a bad book. It's this dark thriller romance and I am invested in the background HOWEVER I didn't really care for the plot and thought both the main characters were bland and stupid not to confront each other for 3 years. You see the reason why I picked this up in the first place is because I really wanted to read Kill Switch, unfortunately Kill Switch is the third book in a series hence why I sorta read Corrupt. I read most of it mainly because I need that background knowledge. So I went into Corrupt strictly to get a feel for the tone, writing style and to get some background knowledge that way when I pick up Kill Switch I won't be totally confused at who the characters are. Maybe one day I will properly read this one but I am content with leaving it as is.
Which brings me to last book I read which was Kill Switch by Penelope Douglas. Yes I know I skipped book 2 but I couldn't wait and I have nearly zero regrets. This one is easily a contender for my favourite book of the year.  Also somehow Rika (main character from first book) became a super interesting boss ass bitch that can go toe-to-toe with Damon. So now I must read the second book to discover how this character development happened. There were some spoilers for the second book that took me by surprise but I just loved this one so much I have zero regrets picking up this one. Winter was amazingly resilient. She is a blind ballerina dancer with this pure heart but is not afraid to voice her opinions. I hated seeing her struggle. Meanwhile Damon had alot of character growth. Like he was an ass in the beginning but he soften up and I actually grew to love his character despite him being the absolute worst in the first book. My favourite scenes had to be all the flashbacks and how Winter and Damon fell in love with each other. It hurt knowing that younger them were doing so well but you know it's going to end with Damon getting arrested and Winter putting him in jail. Especially because they were cute together. That being said please don't mistake this book as being a cute romance. There's bullying, really dark trauma and ptsd and a lot of steamy sex scenes. So unless you want a heavy dark romance please stay clear of this series.
Seshat